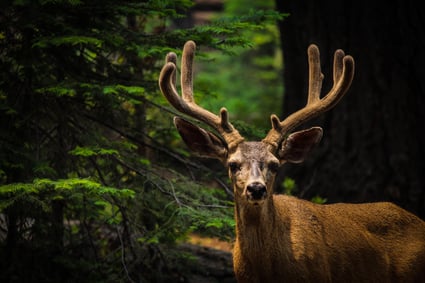 Bucks Using Trees
During the rut, between late September through November, a buck is after a doe. He advertises his desire by rubbing the summer-grown velvet off his antlers, thereby leaving his scent and establishing his territory, communicating his dominance over rivals with the hope that a doe will take notice. A buck will also rub the glands of his face and underside onto trees and branches. Not only do the bucks rub the trees, but they hit the trees noisily to announce their presence. Trees take another hit as rubbing occurs in late winter as the bucks seek to shed their antlers. Little do they know that you cared about that tree.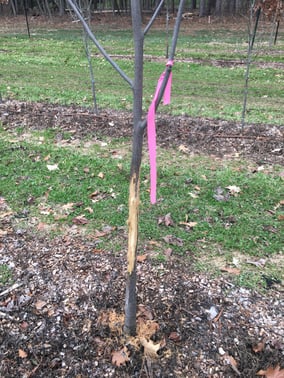 Damage Done
The ravages to a tree from a rutting buck will start at about a foot off the ground up to 5 feet generally and a considerable amount of destruction can happen within the first 24 hours of this assault. Girdling, rubbing the bark layer off around the circumference of the tree will ultimately kill the tree, whereas patches of rubbed-off bark will stress the tree. The tree will then set out to heal itself and will be weakened or possibly die on the side or sides of the tree that have been roughed up. Externally the tree will show a scar. Another type of damage occurs in winter when deer can be literally starving and will eat the lower parts of a tree, including its bark. This damage can vary from year to year depending on the length and severity of the winter. For a buck, nutrition is key to the growth of antlers, a sign to females of his strength and suitability for breeding. Once deer become established in an area, they'll return and it can be very difficult to rid them from your land.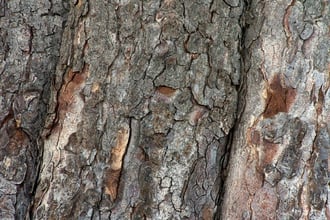 Which trees are targeted?
Regrettably, a buck is just as likely to damage a young, vulnerable tree as he is a mature tree and its branches. A young tree is particularly threatened if the sapwood is exposed over the winter. As far as varieties go, there does seem to be a preference for fragrant species such as pine, elm, spruce, sassafras, and cedar. Other common saplings to protect (up to 5 inches in diameter) are birches, maples, lindens, and magnolias. Upon realization that your trees and plants have become a victim of deer damage, immediate action is required.
Countering the Attack
An excellent method of protection is to create cages for trees, particularly young trees. Use 4 T posts and 5-foot tall heavy fencing to surround a tree (at least 5 feet in diameter), secured with Zip-ties. Galvanized or Vinyl coated wire fencing is tough and long-lasting: our 14 gauge mesh with 2" x 2" openings, and particularly our mesh with 2" x 4" openings would be excellent choices (and this size mesh would keep beavers out as well.) Remember that black vinyl-coated wire blends better into the environment than green. Sturdy fence wire is important--lightweight chicken wire could collapse onto the tree and damage the bark. Wrapping a tree with burlap or specially made papers for trees do not provide enough protection from a rutting buck. Deer repellents just don't do the job that good fence wire will do in protecting a growing tree.
Here's a quick overview of the concept:
These cages are to guard a small number of trees. To protect an orchard or a large number of trees, you are in need of a deer and wildlife fence. Fencing out rabbits and various rodents, who eat the bark off the base of your tree can be controlled by a mesh with smaller openings. Louis Page has all kinds of blogs about fencing out deer. Just do a search on our main page for a wide variety of possibilities and the aspects you are interested in or are struggling with.
How does the tree actually suffer?
The bark on the outside of a tree can be thought of as the first line of its defense. Here is the tree's outer edge of protection from whatever elements are affecting it. Keeping moisture out, bark guards the tree against inundation but it also helps to retain moisture in periods of low precipitation or drought. Just inside this outer bark is the inner bark, a layer that manages infestations, diseases, burrowing insects, and guards the tree against cold weather as well. Just underneath this is a very crucial thin layer in which nutrients are passed through the tree. The inner cambium layer (xylem) passes nutrients and water up from the roots; the outer cambium layer (phloem) brings food through photosynthesis from the leaves down the tree, distributing sugars that aid growth and the creation of bark. Excess phloem makes the bark; the old xylem tissue makes the wood of the tree.
Here are some more videos with varying approaches to creating these cages:
\