Coronavirus at the Zoo
A strange predicament for the Bronx Zoo, already under stress for lack of revenue and inconsistent staffing during the phenomenon of Covid-19, is the infection of one of their tigers, named Nadia, at the beginning of April. The Malayan tiger showed symptoms of loss of appetite and a dry cough which was sustained long enough to get the staff curious; they began the difficult procedure of testing the wild cat. The test came up positive for the coronavirus. By the end of April, four other cats at the zoo tested positive. The suspicion is that an employee of the zoo infected Nadia. Nadia, bred and born at the zoo, is part of a program to breed the endangered Malayan tiger. This news reverberated around the world, alerting other zoos about changing how the animals in captivity are treated. So add to the list of social distancing--tigers. Apes and a variety of smaller animals are most likely susceptible as well.
Feed is Expensive
Unlike other establishments, zoos can't simply shut their doors--they've got mouths to feed and a mountain of general care to manage. Zoos are a cultural joy and also an expensive habit. Most zoos in the U.S. and across Europe have been closed but are progressively reopening with reservation systems, social distancing, and masking guidelines. They are, as always, dependent on the community at large to support their existence.
The majority of a zoo's budget is supported by:
ticket sales
concessions/refreshments
gift shop--especially souvenirs
even stroller rentals
The expense of feeding, keeping staff, and maintaining the programs that make up the environment of a zoo is prodigious. Add medical costs and the present situation becomes dire. Imagine a budget of up to $30,000 a day to pay the bills. Zoos across the country have been laying off sizable percentages of staff, both full and part-time. At one desperate moment, unthinkable as it may seem, it has been suggested that when they run out of food that the smaller animals would be sacrificed to feed the larger animals. One director said that shouldn't be likely and that it may simply be necessary to move animals to other zoos, though this would be considered drastic and to be avoided.
Pandemic Supply Challenges
Because of this year's inconsistent food supply issues at the Calgary Zoo, two pandas are in the process of being returned to China. The two pandas, "Er Shun" and "Da Mao," require around 170 pounds of bamboo a day, of which the zoo is struggling to find sufficient quantities and also experiencing delayed deliveries, with much of the bamboo they rely on rotting en route. These prized pandas cost the zoo upwards of 20 million dollars and preparations for their arrival took six years.
Other Stressors
Oddly enough, keeping animals occupied without the usual stream of visitors has been a challenge, too. To offer stimulation for various animals, they're visiting other parts of the zoo or are being taken on outings, as this video shows:
On the positive side, Le Le and Ling Ling at the Hong Kong Zoo have, after eleven years, used the peace of lockdown to successfully mate and are possibly expecting a happy event.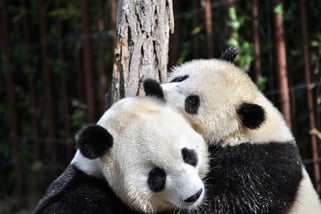 If you have a local or favorite zoo now is the time to offer your support. Many zoos are conjuring up fundraising programs to stay afloat flogging T-shirts and such. It may be worth inquiring what the current plans are or simply offer hard cash.