High Tensile CLASS 3 - 12-1/2 gauge
Woven from hi-tensile 12-1/2 gauge. Rolls are 330' long. These rolls feature strong, flexible Hinged Joint construction which enable the fence to conform to uneven terrain. Crimped horizontal wires allow for expansion and contraction. All rolls are 20 rods in length. Vertical wires are one continuous piece with a third piece of wire connecting them to the horizontal wires.
1047-6-12.5
10 – number of horizontal wires
47 – height of fence in inches
6 -- space between vertical wires in inches
1047-6-12-1/2 - 47" high - 190 lbs. - SKU: FFHT1047612-ST @ $214.00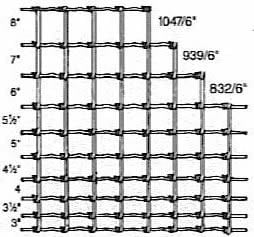 Examples of different types of knots and joints.