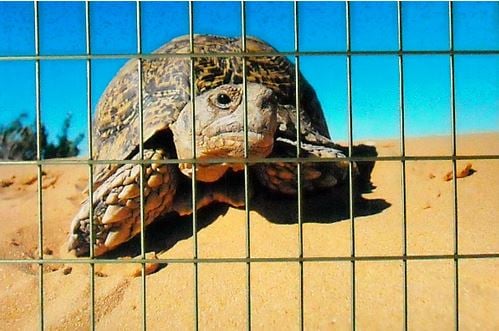 Turtle or tortoise fence can be made with a number of different types of wire mesh. Selection of the proper mesh is dependent upon such things as:
local environment
local code requirements
aesthetic considerations
desired longevity of the fence
species of turtles needing to be enclosed or excluded

16 gauge, 1"x2" mesh, 36"x100' rolls of Galvanized After Weld (GAW) wire is a popular choice and is perhaps the most widely used specification. The mesh is strong, the openings are small enough, and the superior quality of galvanized after guarantees years of use in a wide variety of environments. Other gauges and mesh sizes can also be used effectively.
Galvanized Before Weld (GBW) wire mesh can also be used when moisture and corrosion are not a factor.
Galvanized After Weld (GAW) has an extended life expectancy. The wire mesh is dipped in a bath of molten zinc. The wire and weld points are thoroughly protected from rust and corrosion. GAW wire will provide years of service.
Vinyl Coated (VC) meshes are another good choice. The PVC coating has multiple benefits including tough protection from the environment and a more attractive appearance. If you want the fence to blend with the surroundings, becoming almost invisible, use a black fence.
Read the US Department of Interior specifications and drawings for tortoise fence.
Contact us for current prices and availability.
GBW - 16 gauge, 1"x2" mesh, 36"x100' - 55 lbs. - SKU: WW161236

GAW - 16 gauge, 1"x2" mesh, 36"x100' - 57 lbs. - SKU: PG161236

VC - 16 gauge, 1"x2" mesh, 36"x100', Black - 60 lbs. - SKU: VC161236B