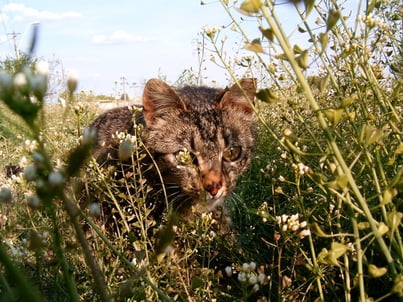 The Endangered Hawaiian 'ua'u (or more commonly known as the Hawaiian Petrel)
In the lava crevices on the slopes of Moana Loa, the Hawaiian petrel nests. Now a bit less nervously as a 5-mile hexagonal mesh fence protects these endangered birds from feral cats, who stalk and feast on the birds' vulnerable chicks. The curved floppy top of the fence prevents the cats from successfully scaling it. Take a look at this video which explains the massive undertaking of installing this cat-proof wire mesh fence in a remote location as well as showing the nesting habits of the 'ua'u (or Hawaiian petrel.)
Some Progress
There used to be thousands of petrels and it is said that their presence would blacken the skies at particular times of the year. The population has dwindled due to increased settlements and people bringing in cats, rats, feral pigs, and barn owls. The struggle goes on as outdoor lights on homes and buildings are very disorienting to the young birds, causing groundings, which leave them vulnerable to predators. The 'ua'u is also preyed upon by Indian mongooses and feral dogs which this fence also restrains. Two years on, there are reports that this hexagonal mesh fence is proving successful as there is an upturn in the number of nesting sites in the area.
What about Coated Hex Mesh?
Hexagonal netting (aka chicken wire) that has been coated with a coating of PVC will last and last. After the 1" hex mesh is woven from 20 gauge galvanized wire (GBW), it is completely coated with a tough, flexible, bonded layer of black PVC.
The coating is:
extremely resistant to cracking, chipping, and weathering
unaffected by extremes of temperature
protected from degradation from sunlight by the UV inhibitors in the vinyl
Vinyl coated chicken wire has an approximate 18 gauge overall finished thickness and is highly resistant to rust and corrosion. Black color helps the mesh blend in with the landscape, becoming virtually invisible. This long-lasting mesh works well in a variety of applications: bird pens, garden fence, around the home or farm, and as you can see--on the lava slopes of Moana Loa!
Tell us about the job and Louis Page will supply the type of fence you need.
If you are interested in more information on the restoration of the Hawaiian petrel: