Vinyl Coated Apron fence
Our apron fence is vinyl coated (VC) with a thick, durable, flexible, protective black PVC finish, making an excellent fence for beagle training pens and other enclosures. The mill that weaves this fence does not do the vinyl coating. We send rolls to a different mill in the United States to be custom coated. This product is totally Made in USA. When compared to the apron fence made in China this will give you many more years of service. We hear from many customers how superior this product is to the imported counterpart.
The vinyl has UV inhibitors to retard degradation from sunlight. This not only adds years of life to the apron fence, but also makes it a very attractive black vinyl coated fence. Although initially more expensive than the GBW apron fence, you will save on the hassle and costs of labor by not having to replace the vinyl coated fence. This material has the same identical features as the GBW apron fence (the apron prevents animals from burrowing out, easy to install with no trenching required) with the added feature of long life and attractive appearance. Vinyl coated apron fence can also be used for game bird pens. Every customer who has purchased this wire has been very pleased with its appearance and long lasting durability. Initial higher cost is offset by the elimination of the cost of early replacement and necessary labor involved. This fence is made with high quality galvanized wire that measures a full 17 gauge.
Beware of inferior quality products falsely claiming to be Made in USA!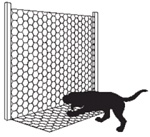 17 gauge, 1-1/2" x 150' x 60" (48" vertical) - 159 lbs. - SKU: HXVCBG60B @ $377.84

60" overall height makes a 48" high fence with 12" apron when installed

9 rolls to a pallet; it's always preferred to ship a full pallet
Get information about other sizes of vinyl coated hex netting.