1-1/2"x1-1/2" mesh, heavy 12-1/2 gauge core, vinyl coated welded wire (VC) mesh and fence makes a strong, long-lasting kennel flooring. Galvanized after welded (GAW) mesh is coated with a thick layer of green PVC tightly bonded to the wire. The PVC used is flexible and will not crack when the wire is bent. This makes a very strong and durable mesh. Not only does the vinyl seal the wire from water and other corrosive elements, but the underlying mesh is also protected by the thick coating of zinc. UV inhibitors retard degradation from sunlight. There are many uses for this strong, heavy mesh. This is an ideal flooring material for dog kennels. It is easy to clean and maintain, and the coating is soft on the feet. Urine and feces will pass through. 100' rolls are available in both black and green.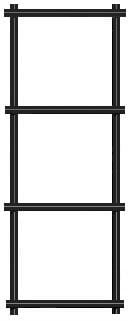 Vinyl Coated - 12-1/2 gauge, 1-1/2"x1-1/2" mesh, 36"x100' - 162 lbs.

SKU: VC12151536B-C (black) @ $307.65*
Vinyl Coated - 12-1/2 gauge, 1-1/2"x1-1/2" mesh, 48"x100' - 215 lbs.

SKU: VC12151548B-C (black) @ $409.39*
*Also available in American-made, call for quote.
-J Standard gauge (Made in China)
-A American Made
-C Italian Made