Secure and Aesthetically Pleasing Panels
The Global Standard for Mesh Panel Fencing
Prism 3-D Fence System is the global standard for mesh panel fencing and is now manufactured in the United States, providing a high value, attractive security fence solution. Europe has enjoyed this beautifully styled fence for 30 years. You rarely see chain link in European countries instead you see this gorgeous fence. New to the USA are these wire mesh panels, steel posts, and gates that make up the complete system called Prism 3-D. We are thrilled to offer you this system.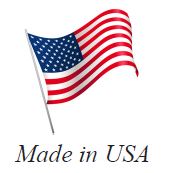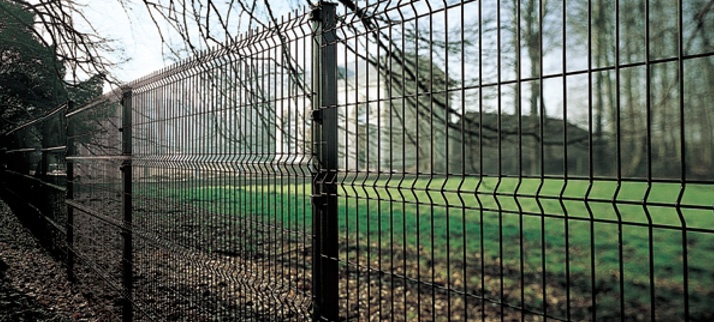 Suggested Uses
Panels
The panels have vertical barbs of 1.2 inches on one side and are reversible (barbs can either be at top or at bottom). The heavy 6 gauge wires guarantee strength and rigidity. Grade: Residential, Commercial, Industrial
Width in.

Panel Height ft.




(Number of Bends)

Cost

Brackets/panel

($4.46/bracket)

Panel weight (lbs)

Opening Size

(vertical x horizontal)

98.5 (8.2')

4 (2)*

call

4

28

6" x 2"

98.5 (8.2')

6 (3)*

call

5

39

6"

x

2"

98.5 (8.2')

8 (4)*

call

7

53

6"

x

2"
*SOLD IN PALLET QUANTITIES ONLY: 1 pallet = 50 panels = 410.5 feet. Ships from Europe.
**Custom panel sizes (heights) are available with a 6 pallet (300 panels) minimum order. Please inquire.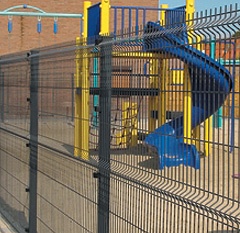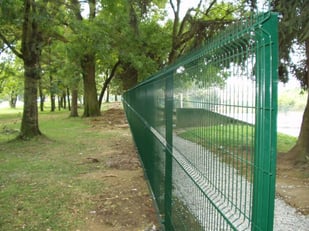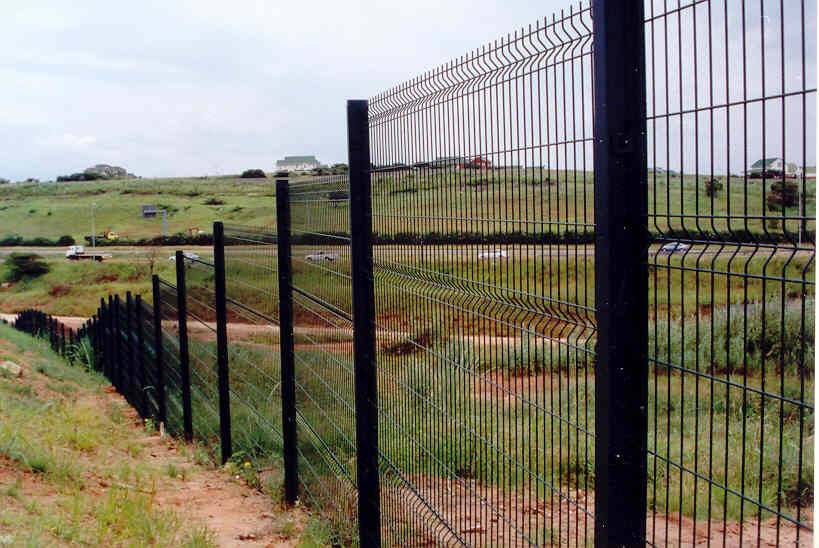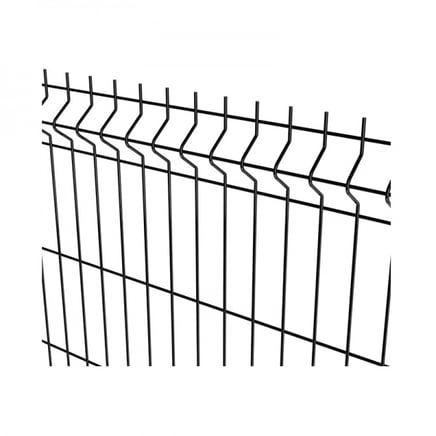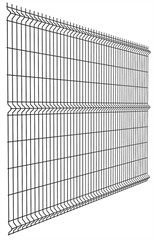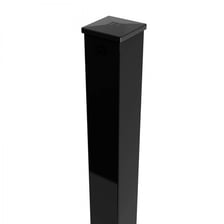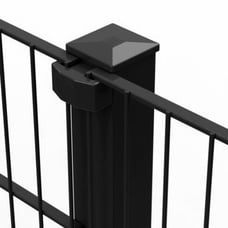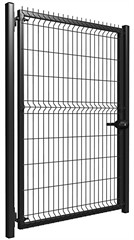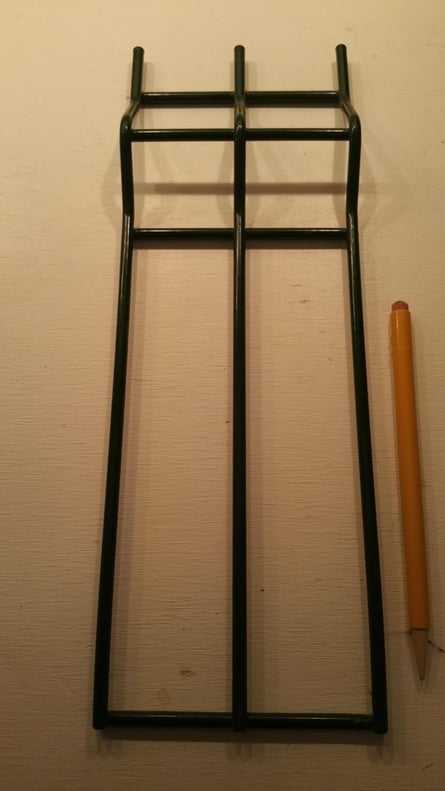 Posts and Gates complete The Prism 3-D Fence System
Posts
The galvanized before weld (GBW) 14 gauge steel posts are available in various heights. They are 2 inch x 2 inch square tubular posts. The panels are attached with brackets to the panels.The panels attach with high strength steel brackets to the front side of the posts. No corner post is needed as the standard post works for the corners as well. How much easier than chain link it is to install these panels that are fastened by brackets. You have the option of closing the posts with plastic caps.
Galvanized steel square tubular posts

2" x 2" square/7' & 9' posts
2/1/2" x 2 1/2" square/11' posts

2" plastic end caps/$0.56 each
2 1/2" plastic end caps for 11' posts/$2.02 each
Steel brackets/$4.46 each
| | | |
| --- | --- | --- |
| Post height/feet | Cost | Post weight/lbs |
| 7 | $42.46 | 16 |
| 9 | $52.48 | 20 |
| 11 | $89.42 | 31 |
Gates
Gates come in 4' - 12' widths with 1' increments
Swing, slide, or slide and cantilever styles available
Coating
The welded mesh panels are manufactured using galvanized before weld (GBW) steel wire, coated with exclusive Architectural Grade Powder Coat. This coating, exclusive to the manufacturer, is incredibly durable and environmentally sound. The powder coating provides the industry's Highest Weatherability and Gloss Retention in U.V. exposure – up to 5 times longer than competitors' powder coatings!

Colors
Standard color is black. Custom colors are available and require a 200 panels minimum order which means a 6-8 weeks lead time.

Warranty
The Prism 3-D Fence System is produced using the highest quality material and equipment - and is backed by a 10-year Manufacturer's Warranty.
Benefits
Rigidity
Heavy welded security mesh panels with rectangular meshes and horizontal reinforcement ribs guarantee strength and rigidity.
Complete System
The system consists of high-quality panels available in various heights, secured to high-strength steel posts. Swing, sliding and cantilever gates are available for the Prism 3-D Fence System.
Long Service Life
The exclusive super-durable powder coating assures a long service life for this fence system. This coating is applied over galvanization to ensure total protection of panels and gates.
Fast Installation
All components have been developed to provide a professional product of high quality that can be installed efficiently and rapidly.