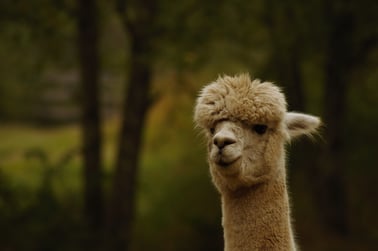 Ideal Alpaca Fencing
The best fence for alpacas is a type of classic horse fence. It's a woven wire mesh that is Galvanized Before Weave (GBW). This 12½ gauge mesh has openings that are 2 inches by 4 inches and 60 inches high (5ft.) and comes in a 200 foot long roll. This wire fence has 16 horizontal wires spaced 4 inches apart. Vertical wires have 2 inch spacing. Along with use for alpacas, this 2" x 4" mesh woven non-climbable horse fence is also ideal for fencing in ostrich, emu, large dogs, goats and other animals.
Making Sure Your Alpaca is Secure
This fence features strong steel wire that's Class 3 galvanized for maximum rust protection. Woven non-climbable fence mesh features an attractive appearance as well as long life. Before the wires are woven into the mesh, the entire finished product is drawn through a bath of molten zinc (830°F.) This galvanization-before-weave creates a mesh that emerges with a thick coating tightly bonded to the wire. Each strand of wire is protected and more importantly, each vulnerable woven area is thoroughly sealed, assuring that this wire will endure.
And the benefits of that Class 3 zinc coating?
Lowest cost over the long run

Damage resistance--the zinc patina guards the metal underneath

Has the luster of stainless steel, but is much less expensive

Offers consistent results

Ensured longevity
Smooth
The woven knots are both rust-resistant--they will not hold water, and they're smooth--protecting both animals and people from injury. Stiff "square" knots, formed by a third piece of wire woven around each intersection hold horizontal and vertical wires securely, yet allow for ease of erection over uneven land.

The square deal knot prevents the fence from buckling or sagging. It also provides extra vertical strength and rigidity while at the same time allowing flexibility.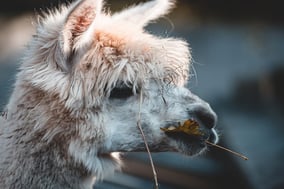 Notes on Alpacas
From the Camelid family; however, like llamas, they're generally much better-natured than camels

Their wool is prized; finer and more plentiful than a llama's

Well-suited to small farms and homesteading

Alpaca wool is softer than cashmere and much warmer than sheep's wool

Alpacas are not guardians in the way that llamas are

Their manure can be directly put on the garden

5 alpacas per acre depending on the fertility of the pasture

Alpacas always need companions

Males and females kept strictly separate unless breeding
Here's a helpful video showing the reasoning behind appropriate enclosures for alpacas. It finishes with this expert's view of the ideal alpaca fence, detailed above.
Generally known as Horse Fence