Are fence repairs or installation on the back burner?
Do you need to create an animal enclosure? Some safe space for your dog?
Do you need to protect children when they are outside in the yard?
Has the summer heat and humidity or is the anticipation of winter holding you back?
It may be easier than you think...
Fencing materials can be galvanized or vinyl-coated, small or larger openings, and a variety of heights. For long life and appearance consider vinyl coated wire. We can't stress enough that black (not green) blends extremely well into the background and almost disappears rather than boldly stands out.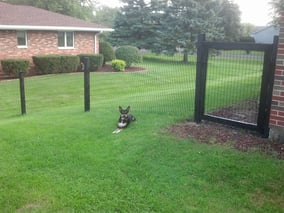 Terrain Issues
Consider the terrain you will be fencing - is it level or uneven? You will want to use a fence that conforms or "racks" if the ground is uneven. On level ground, a welded wire fence is perfectly suitable as there is no give to it. Welded wire is not "rackable." Farm and Field fence adapts beautifully to the topography of your property.
Remember, with vinyl coated wire you avoid costly replacement because it lasts and lasts; plus it has a very pleasing appearance. And! Don't forget fence panels--they can really streamline installation and are perfect for remodeling decks.
Which type of fence material works best for you?