A home for your horse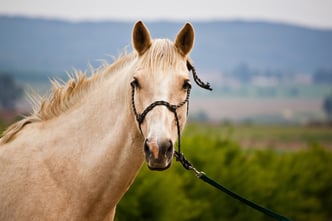 Two Styles of Fence
Getting a horse for yourself or for your children?
Will you be boarding the horse at a different location or keeping it on your own property?
There are two types of woven wire mesh fences ideal for horse paddocks - 2" x 4" non-climb and Keepsafe Diamond Mesh.
A 2"x 4" Woven Horse Fence--that lasts a long time
Features:
Galvanized class 1 or class 3 finish for protection from rust and corrosion
Black painted wire with heavy duty class 3 coating - blends into background
Long lifetime
Heavy 10 gauge top and bottom wires
12.5 gauge filler wires
Strong square knots safely secure vertical and horizontal wires
2" x 4" openings prevent hoof entanglement
Flexible - allows "racking" over uneven ground contours
No uneven or sharp wires to injure animals
48" and 60" heights in 100' rolls
A Strong Keepsafe Diamond Mesh Woven Horse Fence
Features:
Galvanized - class 1 and class 3
Close spacing of wires prevents hooves from becoming entangled
Fence has spring and flexibility
Horizontal wires - heavy double strands of 12.5 gauge wires are twisted for strength
Vertical wires - 14 gauge wires create the V mesh
Requires little maintenance when installed
Rugged long lasting fence
No sharp edges to harm horses or people
50" x 165' and 58" x 165' rolls available
Both fences can be hung on wooden or studded T posts.
Whichever style you choose, rest assured that your horses will be safe and secure. You will have a horse fence that is attractive, strong and durable.