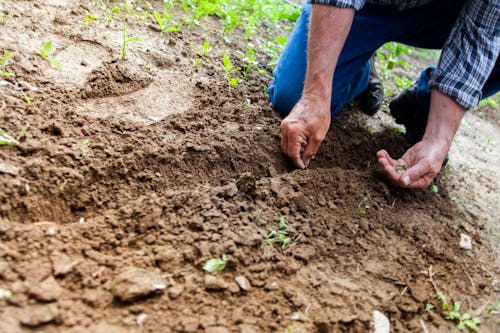 Space Invaders
You might think that as we were living in a small city, in an area with traffic and in a house surrounded by other houses, without any woods around, with a sturdy picket fence surrounding our property, and with a very humble garden, that we would be safe from furry whatsits eating away all our amateur agricultural aspirations. You might also know better, as we now do.
Our Veggie Patch
Last summer my wife and I planted our first backyard vegetable garden. She has dabbled with flowers and herbs in containers, but we never had space for a vegetable garden until last year. We moved into a place with a quarter of an acre yard behind the house. The layout was designed and I tilled a small 6 x 12 space. I also lugged the bags of gardening soil and some supposedly composted manure I picked up from a local farm (by "composted" they only meant that there may have been some incidental material mixed in with the bags of raw cow manure. My car smelled for a month and we couldn't use it on the garden this year. Don't ask why I brought it home with me.) And then we planted several different vegetables and had them all in the ground by the second week in June.
There go my green beans...
Two months later, our modest effort was rewarded. We had too many tomatoes, not enough peppers and just enough fresh basil (it's painful to think about fresh basil in the midst of a New England winter.) We also had some tasty snow peas. The only total failure was the green beans. It seems that a critter crawled unimpeded into our garden and ate the whole plant except for a small stump. Hmm. Fresh green beans are beloved and we want to be sure that next year they're on our plates. We already have a picket fence that I installed to keep our young son in our backyard. Now I have to consider what to use to keep some unidentified, but presumably small animal out of our garden. There are some logical, but not necessarily obvious questions I have to answer.
What type of critters am I trying to keep out? Rabbits probably. Skunk maybe?
How long do we need this fence to last? Maybe 2, maybe 10 years. Not sure really.
Aesthetics matter. What will look best in the yard and be appropriate for a garden? We already have vinyl siding on the house and a vinyl picket fence, so nothing metal or natural wood unless we paint it.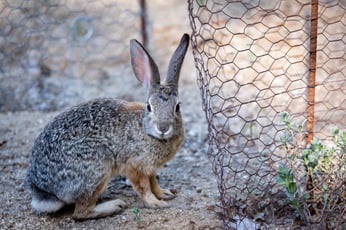 Answers
So after answering a couple questions, I decided that this would be the fence for our garden. I am going to use 36-inch hexagonal chicken wire fence with black vinyl coating. It will be tall enough to keep out small animals and leave me room to bury the bottom thus preventing an attack from below. The black vinyl coating is aesthetically neutral, blending with its background and allowing us to appreciate the beauty of our garden. The UV treated PVC coating gives extra protection from rust and corrosion. I'll staple it to some pressure treated posts which I may or may not set in concrete. That should work. I feel good about it.
C'mon spring!