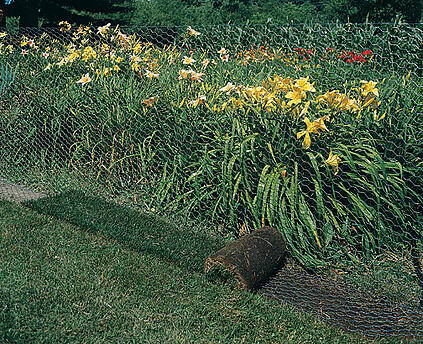 Apron fence with an important difference
Apron fence is a versatile fencing material with many uses. Our high-quality fence mesh is made in the USA and is superior to imported brands. Woven from galvanized 17 gauge wire, 1-1/2" hexagonal mesh apron fence is much heavier and stronger than the normal 20 gauge hex netting sold in retail stores. The extra wire thickness also increases the lifetime of the mesh.
Vegetation Up and Through
The apron is created by a line wire running the length of each roll. This wire is located 12" from the bottom edge of the fence. During installation, bend the 12" apron so it lays on top of the ground. Vegetation will grow up through the mesh, securing it to the soil.

Apron fence is available in two sizes: 60" x 150' (48" high with 12" apron) and 72" x 150' (60" high with 12" apron). In addition to the standard GBW finish (Galvanized Before Weave), this fencing material can also be custom coated with a thick layer of black PVC. There are minimum order requirements on these items. Please contact us for details.
Many Advantages
Heavier, thicker wire has a longer lifetime than 20 gauge hex netting.
Apron prevents animals from digging under the fence.
Eliminates labor and expense of trenching.
Black vinyl adds years of rust prevention.
Black vinyl makes the fence virtually invisible.
Stronger wire is harder to dent and damage.
Use the apron section as part of the vertical fence to gain 12" more in height.
And Other Uses
Perimeter fence for game bird pens.
Apron fence for beagle training pens.
Excellent wildlife exclusion fence for gardens.
Inexpensive tennis court fence.
Chicken run enclosure and protection.
Wire netting to enclose storage areas.
What other ways can you think of to use apron fence?