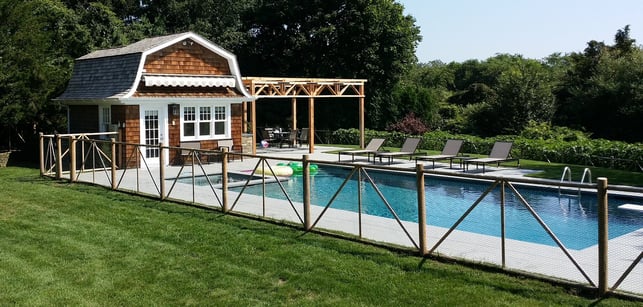 Safety Above All
Getting serious about a swimming pool? Great! However, don't ignore the fence around the pool and pool area--particularly in the case of young children who are curious and are intrigued by water, and will undoubtedly want to investigate the area where all the fun happens. The right fence and mesh products provide indisputable protection. Too many folks have suffered tragic losses--when one thinks about how easy it is to get caught up with what you're doing and for a toddler to slip from your sight. Vigilance is naturally the key, but it's advised, well more than that, it is mandatory to have solid backup--meaning reliable products that help in our struggle to keep our pool environments a safe place--reserved for refreshment, relaxation, and fun.
No doubt you have put a lot of thought into the plans for the pool and its surroundings--the shape, depth, and position of the pool, the appropriate (and beautiful) landscaping, and all the details that will bring your ideas to fruition. Here are some thoughts about some necessities to check off your list.
Required--Self-Closing Gates
Consulting the town building inspector is one of your first stops. Requirements and restrictions are an important key to your pool project. If this is a DIY project, familiarizing yourself with your local pool safety laws concerning your fence and various specifications is vital. Self-closing gates are a good example: a child is not necessarily going to close a gate, particularly if the goal of being in the pool is tantamount! So a self-closing gate is really a universal requirement. Additionally, installing an alarm on your gate is an excellent idea.
If you are having the fence installed by a reputable fence company any questions you may have can be answered by them. Still, understanding the codes ahead of time will help you anticipate these obligations.
Guard Against the Unthinkable
We must face the fact that installing an excellent fence around the pool of your dreams is for everyone's safety and quite literally a protection for you and your family and friends against catastrophe. Planning the fence is as important as designing the pool.
Here are some, not all, above-ground and in-ground swimming pool barrier requirements:
48 inches in height at a minimum, preferably higher
Should not be climbable
Foothold-free
Handhold-free
Have self-closing gates
Have self-latching gates
Able to be locked
Small openings: horizontal - no wider than 1-3/4"; vertical - no higher than 4"
Clearance from ground level to the barrier should less than 4 inches
Thankfully, there are a variety of styles of pool fence that meet code requirements.
Moving on, If you are presently planning to upgrade your current fence or planning to install a new fence, one of your choices is fence panels or cutting a welded wire fence roll. Here are some further ideas: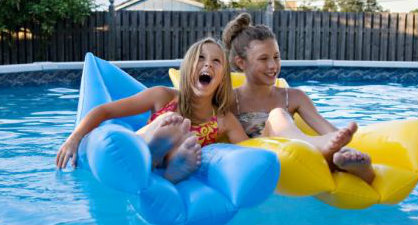 Panels or Do-It-Yourself?
A little more costly, a swift and straightforward method for ensuring safety around a pool are panels that are made flat and cut to your specifications. The savings in time may be worth it. The number of finishes, gauges and configurations of mesh are many and come in sheets that are unframed. The frames can be created during the time the panels are being delivered.
To save some money, you can cut the welded wire fence roll into panels yourself. Bear in mind that this will provide some challenge and that two cuts are required for each panel, the first panel excepting. The cut wires that remain exposed must be trimmed so that they are not left ragged. Some fortitude is necessary as wire cutting demands a steady hand and some patience. Naturally, the thicker the gauge of the wire, the more strength will be required. On that, going the panel route saves quite a bit of your time and spares your hand.
And for you Do-It-Yourselfers--as welded wire has a memory, so to speak--roll the cut panel in reverse, tie it up, and let it soak up the sun for a day.
Important Choices
The mesh openings, wire gauges, and finishes are identical in the cut panels or in the rolls, and on that, we have a post that may be helpful in making the right fence choices--just follow this link to read about it.
Opening sizes for mesh are available in various possibilities of finish: galvanized, vinyl coated, stainless steel, and plain steel. Standard-sized roll widths for the panels, which are made flat and cut to size, come in 72", 60", 36", 24", and 18". However, the length can vary somewhat, depending on your need. Please feel free to ring us with any questions--(800) 225-0508.
However! Relying on these precautions is not enough.
Here is a sobering video showing the ingenuity of toddlers as they outsmart barriers created for their protection.
Vigilance
Parents: Put down cellphones, tablets, and laptops! At all times you should be in the pool with children 6 and younger and have your eyes on children 7 and above. And never put off swimming lessons!