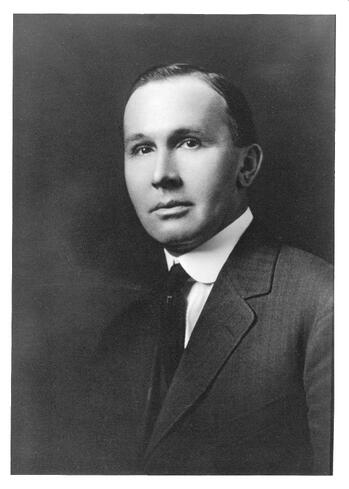 Louis E. Page
A New Century Dawns
The story of America is the story of millions of people who had the dream of starting their own businesses that they could pass on to their children and future generations to come. It is the story of courage, tenacity, determination and hard work. It is the story of successfully adapting to ever-changing markets, customer needs, and economic conditions. It is the story of Louis E. Page, Inc.
Louis E. Page, Inc., like millions of other small companies, may not be a household name. But it embodies the spirit of the American entrepreneur. Founded in 1893 by Louis Eugene Page, the company originally sold hay to feed the horses pulling the horse-drawn wagons. Business was good, and by 1910, Louis and two of his brothers were making their living from the hay business. Then came a major market change as gasoline-powered vehicles began to displace horse-drawn wagons. The company had to adapt to survive.
Changing with the Times
As an established hay dealer, Louis E. Page, Inc. turned to its many farm and feed supply store customers. At this time, there was a growing demand for litter and bedding materials for both the dairy and horse trade. To fill the need, the company acquired exclusive rights to distribute Planter Peanut shells in New England. However, peanut shells were soon supplanted by a better product – sugarcane bagasse. Louis responds by becoming the exclusive distributor in New England for the only US sugar company producing business. This product also proved to be excellent horticulture mulch and some of the large New England nurseries bought it by the rail carload.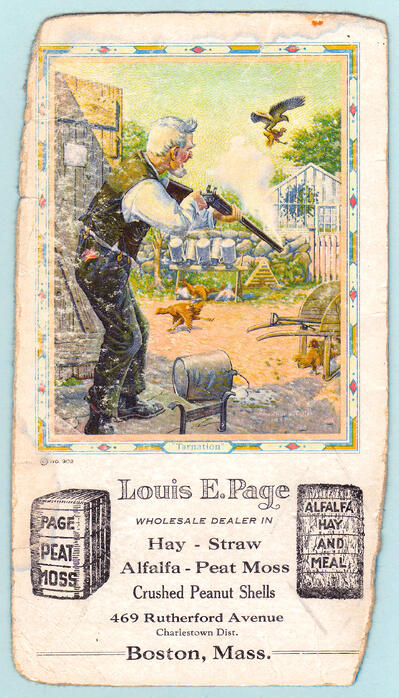 In the thirties, Page added peat moss – both coarse grind designed for horse bedding and finer grind for horticultural purposes. Europe was the only source of supply at this time and Page made several trips to Europe to secure sources.
Business was booming! And then, more changes. By the fifties, independent truckers began hauling hay and peat moss directly from the producers to the farms, thus eliminating the need for the middleman. Louis E. Page, Inc. would have to adapt again to survive.
A Leading Distributor
At this time, feed and farm stores were still the most important segment of the company's customer base. New products were needed to enable the company to continue to grow and prosper to meet the changing market needs. The first new products added were Belgian barbed wire and Mexican baler twine. Selling these new products required warehousing and the company responded by opening a warehouse and greatly expanding its product offering. Customer response encouraged the addition of new products, establishing Louis E. Page, Inc. as the leading New England distributor of wire mesh, fencing, and related products. They sold a large variety of products from Belgian, Dutch, German, Austrian and the leading US mills. Business was booming!
Customer Service and Hard-to-Find Products
Then, dynamic changes in the market happened again with the advent of power, "big-box" retailers like Home Depot, Lowe's, and Tractor Supply in the eighties and nineties. Many of the company's oldest customers were left in the wake of these powerful companies and were forced to close their doors. Louis E. Page, Inc. was again forced to adapt and change to survive. Relying upon their years of experience and varied customer base, they focused on value-added selling by combining its hundred years of experience with the highest quality products available and outstanding customer service. Louis Page also became the go-to company for specialty and other hard-to-find products not offered by other distributors or retailers. They were also one of the first in the industry to see the potential of the internet, launching its website in 1999. Talk about a long way from selling hay for horse-drawn wagons!
A Company for Today
Today, business is again booming! The company is still family owned and operated. Our dear Duncan passed away in 2015; he was the third generation to manage the company and had 42 years with the company and now his wife Debbie, who many of you have been working with for years, has taken the helm, endeavoring to bring Louis Page Inc. forward in serving the customer's interests by delivering the best of American goods with their solid construction, as well as an array of the finest international products available. And now, another milestone: Louis Page is a 100% woman-owned business and boasts a large and diverse customer base which includes all 50 states and several foreign countries. This customer base includes fence companies, contractors, government entities, construction companies, manufacturers, landscapers, nurseries, energy producers, architects, wildlife management companies, pest control companies, zoos, beagle trainers, duck farms, farms, ranches, orchards, homeowners, and yes, farm and feed stores, and many more. The company distributes and sells the industry's leading brands of wire and plastic fence, mesh and netting and other related products made in the US, Belgium, Italy, Canada, China, Mexico, and other countries.
Louis E. Page, Inc. is a perfect example of a company that has had to constantly reinvent itself to survive and prosper. From its humble beginnings of selling hay to horses to selling wire products for the most demanding applications for small fence installers to Fortune 500 companies, Louis E. Page, Inc. continues to evolve, adapt and grow. We believe that "old" Louis would be proud!
Happy 125th Anniversary!!!