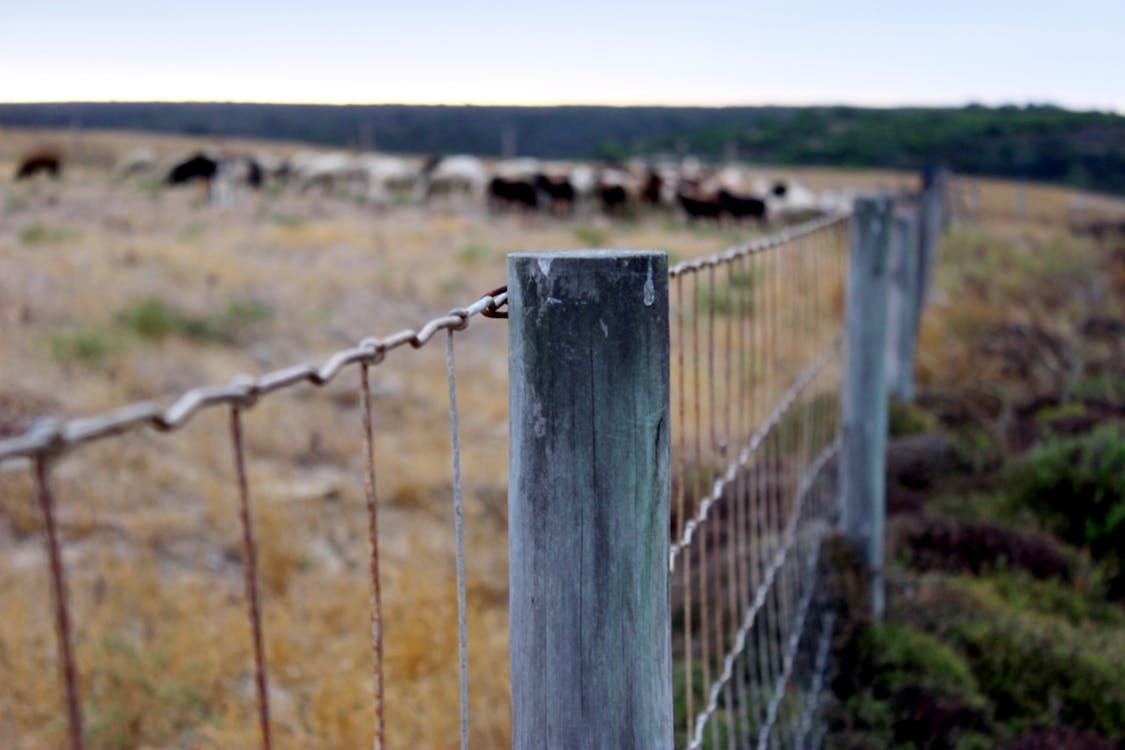 First, some questions...
Are you thinking of putting up a woven wire fence?
Do you need to contain animals within an enclosure?
Do you want to exclude animals from an area to protect your plants and vegetation?
Do you know that there are different types of coatings available to protect woven wire fencing materials from rust and corrosion?
Various Elements and Coatings
Think about fence coatings as you think about paint. It's a way to protect your fence from the day to day elements: humidity, harsh chemicals from the soil, fertilizers, acid rain, etc.
It is important to select the right type of coating for your fence. Environmental factors, including humidity, acid rain, blowing sand or dust, salt and fertilizer can have a detrimental impact on the lifetime of your fence. The proper coating protects your fence from these elements and can keep it looking great for years.
There are three different coating options available on agricultural type woven wire fences. These are the types of fences used for deer and other wildlife as well as farm animals such as cows, horses, etc.
Class 1 2 to 11 years before rust
Class 1 zinc coating is the standard, basic and most readily available type. It has a coverage of .28 ounces of zinc per square foot. In most non-coastal climates, Class 1 zinc coated wire has an approximate life of 2 to 11 years until rust occurs.
Class 3 13 to 30 years before rust
Class 3 galvanized coating features .80 ounces per square foot, approximately 2-1/2 times thicker than standard Class 1 galvanized coating. As a consequence, in most non-coastal climates, it has an approximate life of 13 to 30 years before rusting. When you calculate the time, cost and hassle of replacing and repairing a fence, spending slightly more initially for a Class 3 product makes a lot of sense. Most DOT projects specify Class 3 fencing materials.
ZA
ZA Zinc Aluminum coating is 95% Zn, 5% Al. This is a new zinc-aluminum hybrid coating developed and produced exclusively by Bekaert. Salt spray tests have shown that it will last more than three times as long as Class 1 and close to the same as Class 3 galvanized woven wire fence. ZA uses less coating than Class 3. You save money when you buy a ZA coated product. And you're assured years of trouble-free use.
ZA + Black Paint
ZA+Paint is the newest innovation from Bekaert. Black polymer paint is combined with ZA coated wire. This provides longer fence life in an attractive color. Black blends with the background and becomes virtually invisible. This coating is designed to provide maximum protection from the most corrosive environments. It has a longer expected lifetime than Class 3 coated wire. With ZA + Black paint, you get a good looking woven wire fence with an exceptional lifetime. It will keep its appearance for years.
Not all specifications are available with every type of coating. For example the ZA + Black paint is currently available in three specifications of Deer and Wildlife fence with graduated openings and 2" x 4" woven horse fence.
If long life and lower overall total costs for fence installation is important, determining the best coating for the type of environment where the fence will be installed is crucial to ensure you choose the best fence for your needs.
What environmental factors do you have to contend with in your location? Anything unusual?