Uncomplicated, Effective
A video to inspire you to make your own homemade lighting display.
Planning some projects as the holidays approach? Thinking about what type of fence or mesh to use?
Cages - for rabbits and other small animals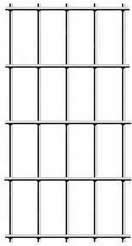 16 gauge, 1/2" x 1" mesh - use Galvanized After Weld (GAW) for the bottom of cages
14 gauge, 1" x 2" mesh - use Galvanized Before Weld (GBW) for the top and sides of cages.
Holiday Decorations
Deer Exclusion Barriers
Bird Cages
Dog Kennel Flooring

1-1/2" x 1-1/2" mesh
Heavy 12.5 gauge GAW core wire
Thick black or green PVC coating
36" and 48" x 25' rolls are available (green only)
J Clip Pliers and Clips

Excellent tool and fastener for building cages and other projects
Connects and secures pieces of mesh
Of course, these items can be used year round as well.
Can you think of additional items?
Are there more uses for the products listed here?