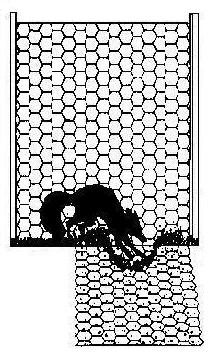 Galvanized, Built to Last
Black vinyl coated apron fence is a strong hexagonal netting fence that will last for years, eliminating the inconvenience and extra expense of frequent replacement. This 1-1/2" hex mesh is woven in the USA by Keystone Steel & Wire in Peoria, Illinois. Heavy 17 gauge 100% U.S. produced galvanized steel wire is used throughout. The high-quality rolls are then shipped to a different mill. Here they are prepped and custom coated with a thick, flexible, durable coating of black PVC, the same material used on lobster trap wire. You can be assured of a superior product when you buy this vinyl coated apron fence.
Vinyl coated apron fence is available in 150' rolls in two heights: 60" (48" with a 12" apron) and 72" (60" with a 12" apron). It is not necessary to use the apron. You can have a full 60" or 72" fence.

A Thick Coat and Tightly Bonded
Made and finished by two of the leading US mills.

Tight quality control during both phases of production - weaving

and

coating.

Double protection against rust and corrosion by zinc and PVC.

Thick

coating is tightly bonded to the wire.

PVC is flexible - will not crack or peel.

PVC is treated to resist UV degradation.

Heavy, strong 17 gauge wire before coating - over twice as thick as the light 20 gauge wire used in regular hex netting.

Unique design - the bottom 12" of the fence can be bent to form an apron.

No need to dig a trench to bury the wire when you want to keep small critters either in or out of an area.

Lay the 12" on top of the ground for an effective barrier.

Black color blends with the background, becoming virtually invisible.

Black vinyl coated apron fence will not block your view.
Vinyl coated apron fence is an excellent choice for
Gardens
Tennis courts
Beagle training pens
Deer exclusion fence
Chicken, poultry and game bird pens

How could you use this fence?
Do you think a high-quality product is an investment in your property?