Are you ready to change the landscape?
Custom and Standard Orders
Welded from heavy 11 gauge wire, typical gabion mesh has 3" x 3" openings, with Galvanized After Weld mesh as the standard--protecting against rust while offering long life. In coastal or saline environments, a tough coating of PVC is recommended to offset corrosion and this, together with the galvanization, offers double protection. Also available: panels for assembling gabion baskets, with a standard set of dimensions being 3' x 3' x 6' or a larger set can be ordered in lengths of 9' and 12'.
It's very possible that your project may require a different set of specifications--gabion mesh can be customized and special ordered. Here is another video with some very striking designs:
Design Possibilities
At Louis Page, we love the ingenuity applied to the design of gabions and the endless variety of uses for them, whether it's for walls, casual seating, embankments, or planters, the list goes on. The sturdiness and style make these small or great feats of engineering an enhancement to whatever surroundings they inhabit.
Look at this planter one of our clients created: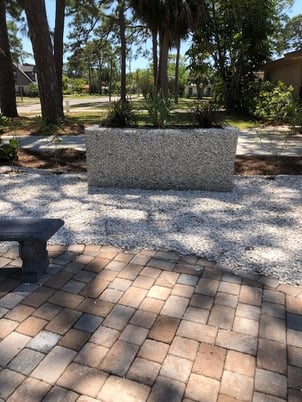 Gabions are also useful for:
erosion control

bank stabilization

channel linings

weirs