Automatic or Manual Feed
Hog rings are a quick and easy way to attach two pieces of mesh or fence together. Hog ring pliers close the rings around the strands, securely fastening them together. Hand operated pliers are available in both automatic feed and manual feed styles.
Automatic Feed Hog Rings & Pliers--a free hand
These are essential tools for quick work. Rings automatically feed into the jaws of the pliers, giving you speedy one-hand operation. Your other hand is free to control the two pieces of mesh while you work the pliers. Strips of 50 hog rings load quickly and easily. The jaws of the pliers firmly close the rings. Auto-feed hog rings and hog ring pliers greatly reduce both the time and effort you spend on your project. Rings are packed in cartons of 2,500. Available in three different styles:
P-7 pliers & SR-8 rings
The smallest and lightest gauge rings
Rings close to a circle with a diameter of 1/4"
Available in galvanized and stainless steel for extra long life
50 rings per strip

Ringer - 9/16 pliers & 1550 rings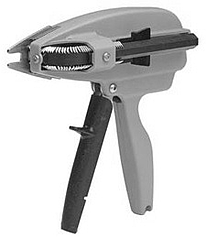 HFP9 pliers & 9AL25 rings

Heavy duty pliers for use with heavy gauge mesh such as chain link
Extra strong holding power
9 gauge aluminum rust-proof hog rings
Blunt nose rings with an opening of 1-3/16" close to 7/16" triangular shape
Magazine pivots to allow tool to reach into tight spaces
Pliers have comfortable padded grips
25 rings per strip
Manual Feed Hog Rings & Pliers--very tough
Use these handy and rugged hog ring pliers for fastening mesh and making repairs. Pliers have comfortable vinyl coated grips. A spring keeps the jaws open, making it easier to fit the rings to the pliers. Jaws close the rings securely around your work.
Pliers & Rings

Single feed pliers feature vinyl coated grips
14 gauge blunt nose hog rings
Stainless steel rings are also available
Three sizes of rings: 3/8", 1/2" and 3/4"
Rings close to triangular shape