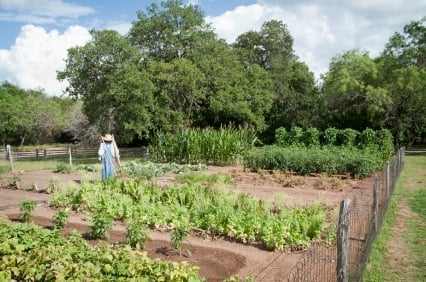 About your garden and what goes around it...
Will you build a new garden fence this year?
Do you wonder what kind of fences will work well in your garden?
There are several different types of fences available that are excellent for gardens.
Welded Wire Fences
--offer the most choices. Available in a wide variety of:
gauges - 16, 14 and 12.5

mesh sizes - 1/2" x 1/2", 1/2" x 1", 1" x 1", 1" x 2", 2" x 2" and 2" x 4"

finishes - galvanized before weld (GBW), galvanized after weld (GAW) and vinyl coated (VC)
In addition to the standard specifications listed above, there are other styles of fences that are designed for use in and around the garden. Some of these have smaller mesh openings at the bottom of the fence to keep out small animals.
Hexagonal Netting Fences
Lighter in weight than welded wire products.
gauges - 20 and 18 gauges

mesh sizes - 1" and 2"

finishes - GBW, GAW, and VC
There are vinyl coated rolls available in extra tall heights of 84" and 90". The black vinyl coated fences are most effective. And the black wire blends with the background becoming virtually invisible. When used as deer fence the black color discourages deer from jumping.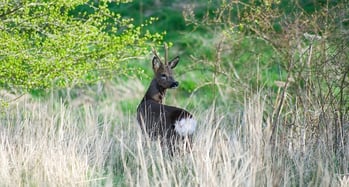 Designed specifically to prevent deer from entering an area and eating trees, plants, and shrubs.
gauges - 14.5 and 12.5

mesh sizes - 1" x 6" through 7" x 12"

finishes - galvanized, zinc/aluminum and black-painted
These are the heavier gauge woven fences that feature graduated openings between horizontal wires. The openings at the bottom of the fence are smaller to prevent small animals from entering the garden. All styles are rust and corrosion resistant.
Apron Fences
--have a 12" apron at the bottom of the roll. Lay this on top of the ground to form a barrier. Animals cannot dig under the fence and enter your garden.
gauge - 17

mesh size - 1-1/2"

finishes - GBW and VC
These fences are labor savers. There is no need to dig a trench and bury the wire. Vegetation grows up through the apron, securely attaching it to the ground. The animals trying to dig into your garden will not realize that they must start their digging 12" away from the fence.
What kinds of fences have you used to protect your garden?
Are you considering all the different types of fences that are available before making your choice?
Do you prefer one type over another?