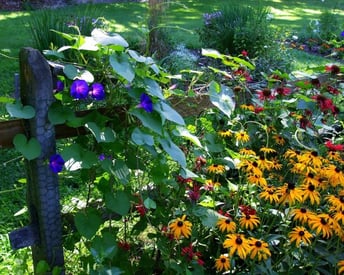 Looking Ahead...
Are you in the process of creating a garden? Do you already have a garden that you are getting ready for the upcoming season? Do you need to protect your plants from being consumed by visiting animals? Build a fence with welded or woven wire mesh - either galvanized or vinyl coated!
Our Recommendation: Use Woven Wire Mesh Underground & Welded Wire Fencing Above Ground
At Louis Page we are partial to woven wire and welded wire fences because they're products that are sturdy and long-lasting. Here is our top advice for keeping your plants safe from animals that think you planted tasty items just for them AND ways to keep your plants healthy so they can grow big and strong. These are our most popular bullet points for this season and the next!
Use a smaller mesh, especially at the bottom of the fence, to keep smaller animals from getting into your garden.
Bury 12" or more of the fence underground to discourage burrowing.
Bend 12" or more of the fence to the outside of your garden laying it on top of the ground for an effective protecting apron.
1" hexagonal chicken wire netting makes excellent barrier fencing
Black vinyl coated 1" hex is ideal - black blends with the background making the fence virtually invisible.
PVC coating adds years of life to the fence.
The wire is easy to work with.
Rolls are available in different widths to suit your needs - from 12" through 90".
This is what black vinyl coated hexagonal wire looks like: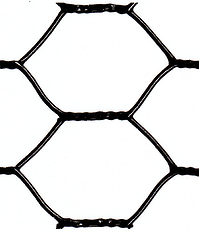 When you need smaller openings - Hardware Cloth is available in 1/2" square mesh
Vinyl coated 19 gauge wire welded into 1/2" x 1/2" mesh will discourage the smallest animals.
Vinyl coated extends the lifetime of the fence.
Rolls are 100' in length.
Three heights are available: 24", 36" and 48".
This is what hardware cloth looks like: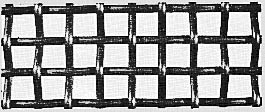 Use larger mesh fences - 2" x 2", 2" x 3" and 2" x 4" - in combination with smaller mesh "ground wire".
The smaller mesh gives protection where it's really needed.
You have greater strength in the higher sections.
This is what a mesh fence with larger spaced openings looks like in a garden: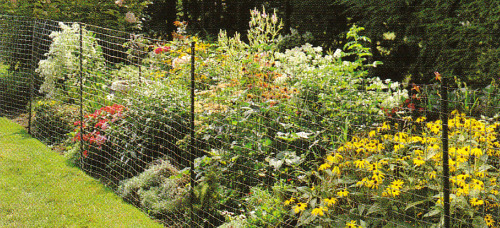 Plan ahead and be prepared! There are many possibilities that allow you to be creative in your solutions. Feel free to call us for additional advice, we love hearing your ideas and recommending the right solution for you! We will even provide a free quote so you can determine if your fence fits your budget.
---