Keeping your pens safe--
Are you raising game birds, poultry or other birds as a business or a hobby? Then you want to make sure your birds are protected with a good netting for the tops of your flight pens.
Known variously as flight pen top netting, top rite netting, aviary netting and game bird netting, these woven and knotted products provide both the protection your birds need and the peace of mind you get from knowing your birds are safe.
This Strong Top Netting:
is lightweight
easy to work with and install
can be fastened together and repaired with hog rings, safety ties or lacing cord
large pieces are available for your convenience
no need to piece together smaller sizes in order to cover a large area
will not rust
resistant to mildew
UV stabilized for protection from the sun
flexible to prevent injury to your birds
acts as a physical barrier to both keep your birds inside the pen and protect them from predators
Woven - Flight Pen Top Netting
These are the netting products most commonly used. They are woven from multiple strands of black, UV stabilized polypropylene.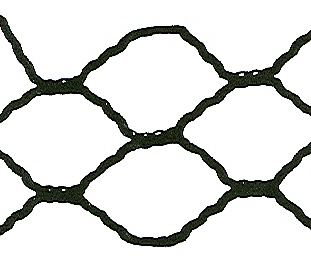 Mesh sizes available: 1/2", 1", 1-1/2" and 2" hexagonal openings.
Weights available (based on tensile strengths): Light , Medium and Heavy.
Widths available: 6', 6-1/2', 12', 12-1/2', 25', 50' and 100'.
Lengths available: 50', 100'' and 150'
Knotted - Flight Pen Top Netting
These products are the strongest and heaviest nettings available. Strands of polyethylene cord are knotted in a diamond mesh pattern.
Weight available: Extra Heavy

Widths available: 26' and 52'
With so many sizes to choose from, you can be sure that there is a flight pen top netting product that will work for you.