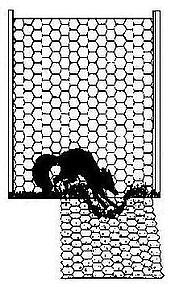 Apron Fence: Discouraging Diggers
A unique woven wire mesh that can be used in many applications. Use apron fence when you need to prevent animals from digging into or out of your fenced area.
This is a woven mesh fence. Heavy 17 gauge galvanized wire is woven into a 1½" hexagonal mesh. 17 gauge wire is much heavier than the 20 gauge wire used in ordinary galvanized poultry hex netting. Being heavier, it has a longer life expectancy than 20 gauge mesh. The 1½" mesh is small enough to keep most small animals from passing through.
Just Bend or Fold it
The unique feature of this woven fence is its apron. 12" up from the bottom edge of the roll, a continuous line wire is woven into the mesh. This line wire, which runs the length of the roll, acts as a guide for bending or folding the bottom 12" of the roll to make an apron. When bent at a 90-degree angle, this part of the fence can lay on the ground. Vegetation will grow up through the apron, securely fastening the hexagonal mesh to the ground. This eliminates the need for and extra labor of digging a trench and burying wire in the ground.
The Mesh Stops 'em
If you want to keep animals from digging into an area, such as a garden, place the apron to the outside. When they come up the edge of the vertical fence and start to dig, the wire mesh will stop them. If you are trying to keep animals enclosed within an area, place the apron to the inside. The apron will prevent digging under the fence.
Rolls are available in two sizes:
60" (48" high with 12" apron) x 150'
72" (60" high with 12" apron) x 150'
Apron Fence is available in galvanized and black vinyl coated finish.

The vinyl coated rolls are custom coated with a thick and durable vinyl coating that is tightly bonded to the wire. It resists scraping and will not crack or split when the wire is bent. The coating is flexible across all temperature ranges. Although considerably more expensive initially, the vinyl coated wire will last far longer than the galvanized mesh. Black wire makes an attractive, virtually invisible fence. The view of your fenced-in area is not diminished by the brightness of the galvanized wire.
So many uses, including:
Securely fence in your beagle training pens and runs.
Build a perimeter fence for your game birds and poultry that can keep predators out.
Enjoy a garden fence that prevents the invasion of hungry wildlife looking for a free meal.
Build an inexpensive tennis court fence by doubling up two 60" rolls without using the apron feature.