4 Foot Fences--Recommended Guidelines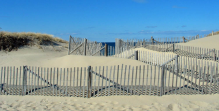 Fences should be as long as possible.
Install with a bottom gap of 6 in. under the fence.
Steel posts should be on 8 ft. centers.
End posts should be 6 ft. or less from the adjacent post and braced.
Wood picket snow/sand fence should be pulled taut to at least 250 lb/ft.
Synthetic fences should be pulled taut at tensions specified by manufacturer.
Plastic fences should be sandwiched between two 2" x 2" boards wired tightly to the steel post at the center and at 6" from each edge.
Height and Bottom Gap
Height is the most important factor in fence design.
It has the greatest influence on particle trapping efficiency, storage capacity, and cost.
Adding 6 in. to a 4-ft. fence increases its capacity by 30%.
Characteristics of the fencing material, such as porosity and size and shape of openings, are relatively unimportant.
The gap between the bottom of the fence and the ground increases the height and capacity of a snow fence.
The bottom gap reduces snow deposition close to the fence.
A gap larger than 8" may be desirable in locations where the fence may become buried.
Posts
Steel studded T or U posts can support wooden slat or plastic snow fences.
Posts for a 4' fence should be spaced 8' apart.
Posts must be designed to withstand wind loads, and allow proper tensioning of fencing materials.
Plastic snow/sand fences require tensions as high as 250 pounds per foot of height.
Posts at ends or corners should be braced longitudinally.
Curved fence lines are undesirable - the tensioning forces tend to pull down the fence.
The force that the wind exerts on a fence depends on the wind speed, density of the air, upwind topography and ground cover, and the height and porosity of the fence.
Wood Sand & Snow Fence
Wood snow fence has slats 1-1/2" wide, held together with double strands of twisted wires.
Porosity is typically about 60%.
Available with red oxide stain or natural unstained finish.
Plastic Sand & Snow Fence
Most plastic fences, such as Nordic Plus II by Tenax, are made from black or orange polyethylene.
Plastic fencing has high tensile strength, but it can be cut and is susceptible to abrasion.
Fence must be well secured to posts.
Fencing should be tensioned to the manufacturer's specification.
End posts must be adequately braced to allow tensioning of the fence.
Read our blog article "
Snow & Sand Fences - Why They Work
".
Information was taken, in part, from the Strategic Highway Research Program by The National Research Council. For more extensive and in-depth information about snow fences.