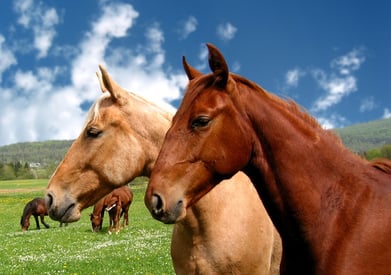 They call it "Tuff" for a reason.
Stay-Tuff produces state-of-the-art galvanized woven wire mesh for horse fencing.
"Horse-Tuff" Fixed Knot Fence keeps your horses secure with bordering protection featuring rust and corrosion resistant wire that lasts beautifully due to heavy duty galvanization. Plus pre-stripped rolls--all of the Stay-Tuff fence rolls come with 18 inches of vertical stays removed from both ends of the roll.
3-inch mesh spacing is safe, strong and sized correctly to resist horse hooves, cutting down on expensive injuries.
These fences are resilient when a horse makes contact--whether the horse was playing, gets spooked for some reason, or didn't see it (think about adding a top board to enhance visibility.)
You can trust these products to safely contain your horses.

These fences feature the following characteristics:
fence meshes are durable and flexible, holding their shape
longer lifetime, little maintenance required
woven mesh construction is strong
no wires sticking out to scrape or harm animals or people
can be used with rail fences
lasts 3 to 4 times longer than low-tensile wire
Redi-Roll feature means time saved stripping roll ends
faster and easier to build with fewer posts to set
and a 20 Year Warranty

Stay-Tuff products will provide you with a lifetime of service.