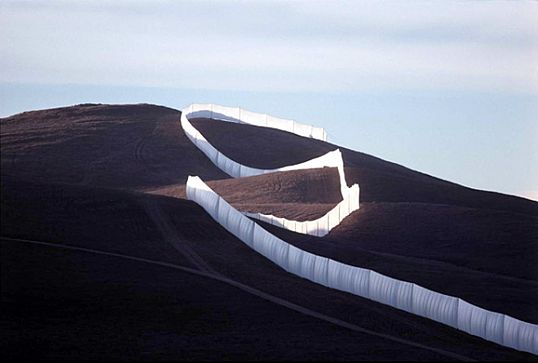 Running Fence
Christo and Jeanne-Claude
A Passing Horizon
In April of 1976, after four years of planning and obtaining required permits and permission, construction began on an unusual fence. Completed on September 10, Christo and Jeanne-Claude's "Running Fence" was removed, leaving no traces, fourteen days later on September 23rd.
The 18 foot high fence was made with 2,222,222 square feet of heavy woven white nylon fabric. It wound for 24-1/2 miles through the rolling hills of Sonoma and Marin counties in northern California, terminating in the Pacific Ocean in Bodega Bay. The Running Fence crossed 14 roads and the town of Valley Ford. Openings were left for cars, people, cattle and wildlife. It was placed so that it could be viewed from 40 miles of public roads, as shown in this old super 8 movie.
Creating the Fence, Dismantling the Fence
350,000 hooks were used to attach the top and bottom edges of the heavy fabric to steel cables. The cables were secured to 2,050 - 3-1/2" x 21' tubular steel posts set 36" in the ground. Posts were not set in concrete. 90 miles of cable and 14,000 earth anchors were used to laterally brace the posts. Close to 400 people helped install the fence. After its removal, all material was given to the ranchers who had allowed it to pass through their property.
In addition to the materials used, all paid for by Christo and Jeanne-Claude, this monumental art project consisted of:
18 public hearings
participation of local ranchers
42 months of collaborative efforts
drafting a 450 page Environmental impact Report
three sessions of the Superior Courts of California
temporary use of hills, the Pacific Ocean and the sky
The project elicited strong reactions.
Do you think this is a work of art?