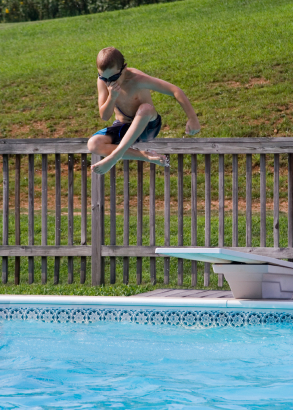 Let's protect our little ones...
Each year, thousands of drownings and near-drowning events occur in the U.S. - swimming pool tragedies that are preventable. In the summer of 2018, there were 148 fatalities due to swimming pools and spas/Jacuzzis. That's from Memorial Day to Labor Day and that statistic only includes those younger than age 15. Mercifully, that statistic is down 9% from 2017. The U.S. Consumer Product Safety Commission has studied this problem extensively. Their conclusion about the best way to reduce and hopefully eliminate these incidents:
Pool owners must install and maintain effective barriers to prevent young children from entering the pool area.
Swimming pool barriers requirements for both in-ground and above ground pools should be/have:
at least 48" high
free of footholds
self-closing gates
free of hand holds
self-latching gates
made with small openings:
horizontal - no wider than 1-3/4"
vertical - no higher than 4"
locking devices on all gates
less than 4" clearance from ground to bottom of barrier
It is very important to check your local town codes before installing any swimming pool barrier, whether solid, with horizontal and vertical members or made using welded or woven wire mesh fence. Local town codes may vary.
Still, relying on these precautions is not enough.
Here is a sobering video showing the ingenuity of toddlers as they outsmart barriers created for their protection.
Vigilance is required! Parents: Put down cellphones, tablets, and laptops! At all times you should be in the pool with children 5 and younger and have your eyes on children 6 and above.
For further information, the U.S. Consumer Product Safety Commission has a 32-page brochure available as a PDF: Guidelines for Entrapment Hazards: Making Pools and Spas Safer.