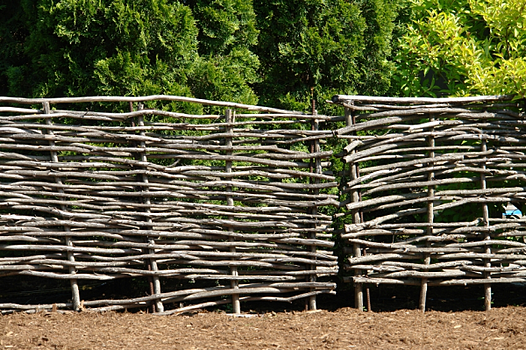 Wattle fences may be one of the oldest types of fencing still in use today. They were used in England long before Medieval times. Traditionally the fences are built from straight, slender, flexible suckers or saplings of the willow tree up to 1-1/2" diameter. After the leaves are stripped, the "withies" are woven between upright wood posts. Willow is an ideal wood because it is pliable and resists splintering. Other species, such as alder, can also be used. Read "How To Build A Wattle Fence" from the Alaska Botanical Garden

Wattle fences are very strong and long lasting. Willow posts often take root in the ground creating a living fence, perfect for containing animals and enclosing gardens and orchards. And the density of the fence makes an ideal wind break.

The rustic, hand woven appearance of wattle fencing adds an attractive defining touch to any yard, garden or landscape. Some possible uses:
arches

towers

trellises

plant supports

garden accents

hurdles or fence panels


attractive garden borders to line walkways
Wattle construction is a great way to use invasive species for fence building materials. Instead of burning or destroying branches, use them in a creative way to beautify and and add interest to your landscaping. Even though willow is the ideal wood, any type of wood can be used.

What ways can you think of to use wattle fence?
Would you want a wattle fence in your yard?